UglyAss DeSo NFTs Are Here And They Are Fire
DeSo NFTs are starting to heat up with some amazing artists.
Say Hi To UglyAss!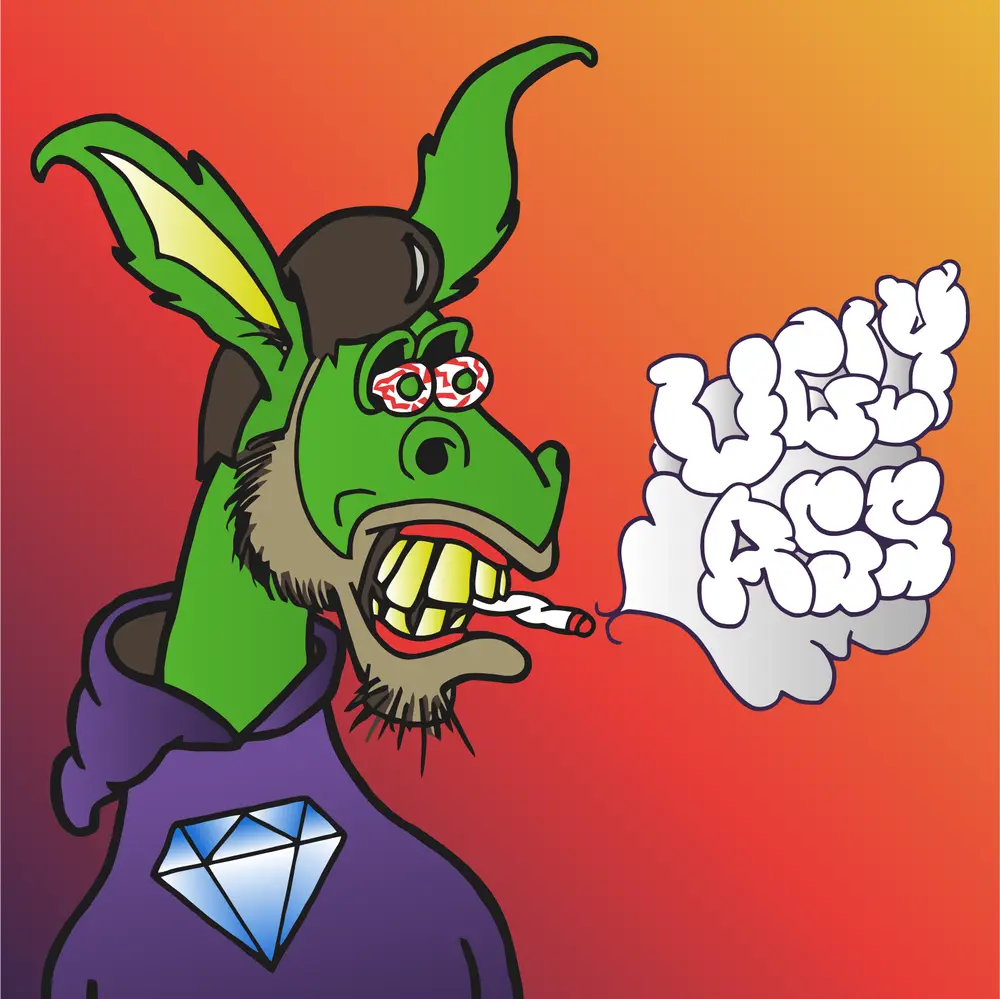 A Brief Intro From Ugly Ass Himself

UglyAss NFT is a hand-drawn art collection digitally remastered only available on the DESO blockchain created by ReFined Enterprises, LLC.
UglyAss Graphic T's and Hoodies available soon! After each drop, Graphic T's and Hoodies will be made available with that NFT on them. Get your own customized UglyAss on your own UglyAss shirt! Message me on Twitter @uglyassco
100 Genesis UglyAsses –
polygram.cc/u/UglyAss
Custom self UglyAss available upon request
First buyer bonus:100% of NFT sale gets used to purchase $uglyass Coin, and 50% of that purchase gets transferred back to the winning bidder.
Utility: 25% off @uglyass merchandise for as long as NFT is held. The utility is transferred to the new owner of NFT upon resale.
DiamondApp @UglyAss
Twitter @UglyAssCo
Email: Contact.refinedllc@gmail.com
More About The DeSo Platform
On-Chain Profiles
Every user's profile is stored on-chain and is solely controlled by the user's private keys, making your identity portable between all apps in the DeSo ecosystem.
Social DeSo NFTs
NFTs minted on DeSo are associated with the artist's profile, and can be shown off on the buyer's profile, enhancing provenance while making them inherently social, and more valuable.
DeSo Social Tokens
Every profile created on DeSo can have a social token attached to it. Social tokens on DeSo earn cashflows from NFT sales, and soon all forms of creator monetization.
Social Tipping aka "Diamonds"
Because DeSo is a blockchain, it's never been easier to integrate money-native features like tipping into your app. Tips can be integrated directly with content, e.g. allowing users to give "diamonds" to posts rather than just "likes."
On-Chain Posts
Every post and reply is stored and indexed directly on-chain, meaning that your content is portable across all apps in the DeSo ecosystem. If one app's algorithms aren't showing you, love, there are thousands of others that will instead!
For More Info on DeSo: FAQ and Top Need To Know Info About DeSo – Crypto Bite
Argentine Crypto Exchange Lemon Sheds Roughly 100 Jobs, Citing Challenging Industry Conditions
Lemon had planned to deploy almost the entire amount on its expansion in Brazil. Given the current context, its move into the South American country will be "more strategic and niche," Cavazzoli said. The exchange put plans to expand into Chile, Colombia, Ecuador, Peru and Uruguay by the end of 2022 on the back burner.
It's time for crypto fans to stop supporting cults of personality
Many of the centralized cryptocurrency platforms that collapsed this year had something in common: a young, outspoken and cocky leader. Each gained outsized influence not by virtue of outsized intellect or talent but because of their piles of money and large Twitter followings. And each time, misplaced trust in their abilities resulted in disastrous consequences. 
If crypto wants to avoid similar catastrophes in the future, it's time for us to rearrange our leadership priorities. We need to ditch the cults of personality.
The theater of crypto on Twitter
Before FTX collapsed, founder Sam Bankman-Fried (SBF) had garnered a reputation as one of the loudest voices in the industry. He was active in the political world and frequently commented on what was happening in Web3.
Related: Disaster looms for Digital Currency Group thanks to regulators and whales
But perhaps most notable was his active involvement in a myriad of Twitter feuds and spectacles. SBF first stepped into the spotlight as the successor of SushiSwap after Chef Nomi abruptly abandoned the project — a drama that played out almost entirely on Twitter's public stage. His ensuing Twitter antics, combined with the image of unstoppable success that FTX was broadcasting far and wide, gained him more than a million followers.
But even as SBF's influence grew, it seemed he just couldn't resist shitposting, regularly engaging with other Twitter users who threw stones.
Indeed, SBF's penchant for Twitter drama played an important role in exposing FTX's insolvency. It was his recent spat with CZ that ultimately led to the run on FTX's deposits. His attention-grabbing antics carried on through the current ordeal, culminating in a bizarre series of cryptic tweets.
The loudest voices in the room
While SBF is the latest example of an industry figure whose highly public Twitter presence led to a highly public downfall, he certainly isn't the first. Do Kwon and Su Zu, who were both at the center of monumental collapses earlier this year, were also notorious trolls. Do Kwon infamously sent an arrogant series of tweets just before Terra's downfall, while Su Zhu's infamously elusive comments during the 2021 bull run didn't age well, either.
At our company offsite this week with all the drama happening. Debating who is the bigger villain in crypto:
a) Do Kwon – $58b loss from UST & LUNA
b) SBF – $10b missing deposits in FTX
c) Su Zhu – $3.5b loss from borrowers
d) Alex Mashinsky – $2.8b missing deposits in Celsius

— Bobby Ong (@bobbyong) November 10, 2022
But, the leaders of failed platforms aren't the only ones guilty of social media braggadocio. Binance's CZ, after all, was just as guilty as SBF of engaging in their public Twitter feud earlier this month. Digital Currency Group's Barry Silbert, who has been at the center of alarm related to the FTX fallout, has also garnered a reputation as a shitposter.
There are many, many more tweeters who have used online spectacle and trolling as a means of controlling the industry conversation. Think Ben Armstrong (aka "Bitboy") and Jim Cramer, to name just a couple more. There's a small army of them. And, even though many are purged in each bear market, their successors are increasingly turning into powerhouses too vocal and influential to ignore in the space.
Jim Cramer said that he sold all of his crypto.

Then he blamed @APompliano for "putting him in" BlockFi.

So he… lied?

Now he's on a crusade to blame anyone he can find for his own bad decisions, even "digital finance people," which is literally a made up term. https://t.co/NTojFohvFQ

— The Wolf Of All Streets (@scottmelker) November 18, 2022
We need to end the cults of personality
So what's the solution? How can we better identify this personality type and use this recognition to avoid future pain?
Related: 5 reasons 2023 will be a tough year for global markets
Instead of focusing on building cults of personality, the crypto community needs to focus on platforms and leaders building products that use web3 primitives to solve problems in a manner that's orders of magnitude better than anything we've experienced before. The crypto community needs to stop listening to the loudest voices in the room and start listening to the wiser, more experienced ones — even if they are sometimes quieter. And by the same token, we need builders with experience in creating real value for users to speak up more.
Ultimately, the answer lies with us and with the people that we, as an industry, choose to lionize. We need to learn how to identify and support builders building transparent, secure, high-quality applications and decentralized applications — regardless of how many followers they have.
Corey Wilton is the co-founder and CEO of Mirai Labs, the international gaming studio behind Pegaxy. A renowned speaker and play-to-earn thought leader, he began his first company within crypto in 2018, a customer support service designed to assist cryptocurrency companies with their customer service.
This article is for general information purposes and is not intended to be and should not be taken as legal or investment advice. The views, thoughts, and opinions expressed here are the author's alone and do not necessarily reflect or represent the views and opinions of Cointelegraph.
Good Or Bad Read Our Review
About lithiumhosting Web Hosting
lithiumhosting Web Hosting Family Owned and Operated and 100% investor free, Lithium Hosting was founded in 2006 on a simple concept: good web hosting shouldn't be expensive. There was once a day when providing affordable and reliable hosting meant you had to sacrifice quality of service – not anymore. Because this remain small, lean and agile, they are able to minimize overhead and offer quality service at a low price. And with a wealth of satisfied customers, this like to think they've done pretty well so far.
They pride yourselves on customer service and customer satisfaction. They encourage feedback, criticism and feature requests. Please let know if there is a product they don't currently offer that you might be interested in. At the same time, let know how they are doing or what can do to improve your service offerings and product lineups. From website design and usability to product price and features, they hope you will tell what is on your mind.
lithiumhosting Web Hosting Overview
Hosting Name
lithiumhosting Web Hosting
Support
Via Email, Live chat support, 24/7/365 Call Support or ticket systems
Website Url
Click Here To Visit
Speed
67 ms (Mumbai)
Uptime
95.97% (last 365 days)
Data Centers
Data centers in Asia, America, Africa, Australia and Europe
Backups and Restoration
Automatic daily backups for free
Stored offsite for 10-30 days (as per plan)
1 click Restoration
No easy options for manual backup
Migration
50 cPanel accounts or 10 non-cPanel accounts for freeOnly valid within 60 days of purchase
Rating
9.6
Affiliate System
Not Available
Features
Maximum Performance, Web Apps and Fortification, Free Let's Encrypt SSL, Maximum Security, 99.8% Uptime Guarantee, Money Back Guarantee
Security 
SSL Certificates, Domain Transfer, Domain Registration, cPanel Reseller, Shoutcast/Icecast Reseller, Live Video Streaming
Developer Tools
PHP 8.0, NodeJS, Python, Perl, Bash, Laravel, SSH and SFTP Access, etc.
Add-Ons
Various SSL Certificates, Email Spam Filtering, SiteLock, Marketgoo
Hosting Plans
Cloud Shared Hosting, Business Cloud Hosting, Cloud Reseller Hosting
Payment Methods
International debit and credit cards, Visa, PayPal, American Express, Maestro and Mastercard
Refund Policy
30-days money back guarantee
Pricing
Starting from $4.95/Mo
How To Migrate Your WebSite To lithiumhosting Hosting
It is very easy to transfer your website from exiting host to new hosting. lithiumhosting Hosting Offer Free Migration Service After Purchase Request Free Migration & Support Team Of Do The Rest.
lithiumhosting Hosting Price
lithiumhosting Price Start From $4.95/Mo. This Hosting comes with Cloud Shared Hosting, Business Cloud Hosting, Cloud Reseller Hosting. Each of the plans is suitable for the type of business you have, and they all have one goal – to make your website stand out from the rest.
lithiumhosting Server Response Time
One of the most important things to look for in a web hosting solution is its speed. You want your websites, web applications, and their content to load at a lightning-fast speed. That's possible only when the web hosting solution qualifies for speed tests and analysis.
This makes it essential to review for its speed, server response time, uptime, and other factors that influence a website's speed. So, let's get to it.
Speed Test Result
lithiumhosting Uptime Test
Your website is no good if it remains down. The entire functioning and uptime of your website are dependent on the hosting solution that you use.
lithiumhosting Data Centers Location
The more data centers that a cloud hosting solution has, the better. This is constantly focusing on increasing its reach and hold across the world.
The states or cities where the data centers of the cloud solution are located are-
Asia
America
Africa
Australia
Europe
lithiumhosting Security
In any web hosting platform, security and technology play a major role in the company and customer success. Well, if you own a website, you need to keep it safe from online threats, right? This is where they proves to be a savior with its impressive security features. 
SSL Certificate: Don't risk buying elsewhere and getting it wrong as a small typo or selecting the wrong option could prevent your certificate from working and prevent successful installation. Let do the hard work for you.
Server Audits – Your team is constantly auditing your servers to ensure that you are always protected and running smoothly.
Money-back guarantee – They know that not everyone has the same needs. That's why offer a 30 day money back  guarantee if you feel your services aren't right for you.
Malware Scanner: It scans for malware on your website and fixes all kinds of online threats. It is available for free on the Turbo Shared hosting plan.
24/7 Monitoring: This team is always monitoring your server and your network to provide the maximum protection against online threats and attacks.
World-class support: You'll be delighted with your customer support team, who are always ready to help you with any hosting queries you may have.
lithiumhosting Affiliate Program
lithiumhosting also has an exciting affiliate program put in place where you can earn a commission by referring people to lithiumhosting.
They have different levels decided according to the number of affiliates. You can easily calculate your estimated earnings through these levels.
Does this sound interesting to you? Wondering how you can become an affiliate on lithiumhosting? Well, you simply need to sign up as an affiliate and share referral links to promote hosting. 
lithiumhosting Hosting Features
Daily Backups
They provides daily backups for your websites to ensure that you never lose any content or important business information.
lithiumhosting Refund Policy
Similar to other hosting, you get a 30-day refund guarantee on lithiumhosting. This is great if you wish to test out all the features of the hosting plan and then decide if it is right for you!
However, it only applies to hosting services. If you purchase a domain or any add-ons along with your hosting account like SSL, Email Security, SEO Tools, etc, they won't be refunded. 
Payment Methods
They accept payments through International debit and credit cards, Visa, PayPal, American Express, Maestro and Mastercard.
Global Available
One of the best features that a hosting solution can have is to be expanded worldwide. This is one of those providers that work hard to gather more audience globally and to keep it. This web host is spread on continents –America, Europe, Asia, and Australia. Since its beginning, this has managed to put data centers globally that care about the speed and the performance of the hosting platform. More precisely, the data centers are located in Beauharnois, Canada.
Maximum Performance
Speed matters, which is why ApisCP is built with meticulous consideration for all components. On average ApisCP's backend can process over 13,000 privileged commands per second. Privilege escalation through careful API calls to its backend is just one way security comes first.
Web Apps and Fortification
Effortlessly setup and automatically update WordPress, Joomla, Drupal, Ghost, Laravel, Magento, and Discourse from within ApisCP. Setup SSL + create restricted write-only profiles for PHP applications with Fortification.
Free Let's Encrypt SSL
One-click setup + renewal of Let's Encrypt SSL. Take advantage of HTTP/2 with easy, free SSL sponsored by Let's Encrypt. Wildcard SSL included to protect all subdomains.
maximum Security
All users are isolated in their own virtual filesystem, the firewall is constantly monitoring and blocking bad actors, Rspamd and Spam Assassin are keeping mailboxes free of spam and the self-healing platform is constantly updated and secure.
99.8% Uptime Guarantee
Your average uptime is over 99.9% which is roughly 45 minutes of downtime per month. Server restarts take less than 3 minutes and software updates rarely impact service which translates to more uptime for your website!
Money Back Guarantee
They're so confident you'll love your service, they offer a 30-day free trial and an unprecedented 90-day money back guarantee. Add those together and you have the best guarantee in the industry.
Website Migration
This also comes with a free website migration. This means that if you already have a website that is hosted by another provider, you can easily migrate it to lithiumhosting. 
Now FAQ Time