Which Cohorts Are Selling, And Which Are Buying?
On-chain analytic firm Glassnode has broken down which Bitcoin cohorts have been accumulating and which have been distributed during the past year.
Bitcoin Whales Distributed Coins Equivalent To 60% Of Mined Supply In The Last 12 Months
As per data from Glassnode, whales, miners, and exchange outflows were the primary distribution sources in the past year. The relevant indicator here is the "yearly absorption rates," which measures the yearly Bitcoin balance changes of the different cohorts in the market and compares them with the number of coins issued over this period.
The "coins issued" refer to the total amount BTC miners receive as block rewards for mining a block. These new coins produced have to go somewhere, and that's what the yearly absorption rates metric tries to paint a picture of the BTC supply flow.
The cohorts that Glassnode has considered are the shrimps (investors holding less than 1 BTC), crabs (between 1 to 10 BTC), whales (more than 1,000 BTC), and miners. Additionally, the firm has also included data for the "exchange outflows," which measure the total number of coins withdrawn from the wallets of all centralized exchanges.
Now, first, below there is a chart that shows which of these investor groups were absorbing a positive amount of the yearly coin issuance:
The value of the metrics seem to have been quite high in recent weeks | Source: Glassnode on Twitter
As shown in the above graph, the Bitcoin yearly absorption rate of the shrimps is 107% right now, meaning that this investor group added 107% of the total number of coins issued on the network to their holdings during the past year.
The indicator's value has been even higher for the crabs at around 120%. From the chart, it's apparent that the metric has observed a very rapid rise in the last few months, suggesting that a lot of accumulation took place at the lows following the FTX collapse.
Since the amounts added by these cohorts are higher than what the network issued in the past year, it seems reasonable to assume that some groups must have distributed or sold their coins to make up for the difference. The below chart shows which cohorts displayed distribution behavior during the past year.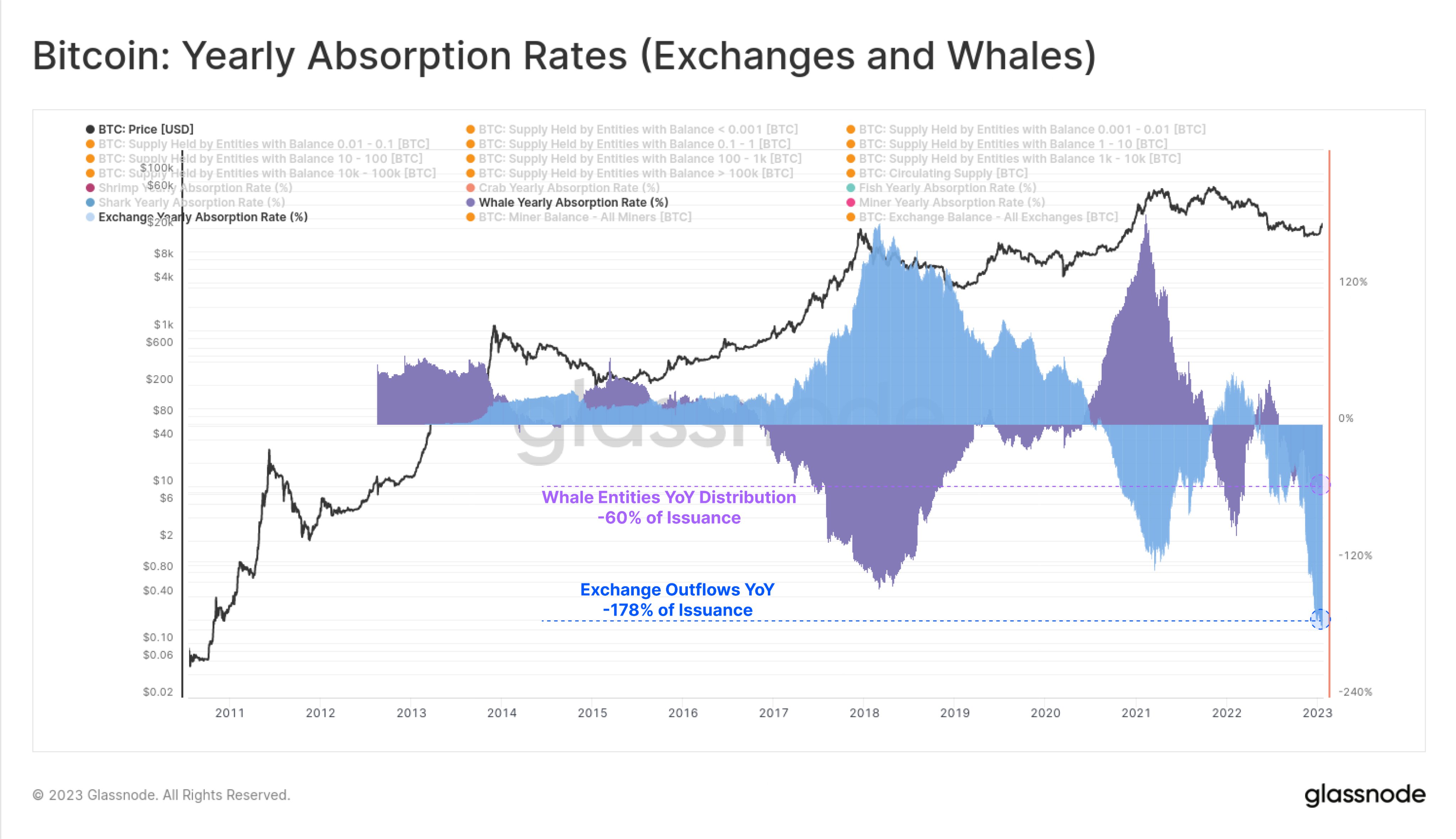 Looks like these metrics have been deeply negative recently | Source: Glassnode on Twitter
It seems that the yearly absorption rate of the whales is 60% underwater, which suggests that these humongous holders have shed coins equal to 60% of the issued supply from their wallets over the past year.
Exchanges also distributed a massive amount of Bitcoin as the metric's value was negative 178% for exchange outflows. These platforms observed large withdrawals in this period partly because of the FTX collapse, which made BTC holders more aware of the risks of keeping their coins in centralized wallets. This led to a massive migration of the BTC kept on centralized entities.
Users transfer large amounts of BTC from exchanges to keep their holdings in privately owned hardware wallets. Though not displayed in the chart, Glassnode also mentions in the tweet that miners distributed 100% of the coins they mined (which means 100% of the issuance), plus an additional 2% from their existing reserves.
BTC Price
At the time of writing, Bitcoin is trading around $22,600, up 8% in the last week.
BTC continues to move sideways | Source: BTCUSD on TradingView
Featured image from Kanchanara on Unsplash.com, charts from TradingView.com, Glassnode.com
Source link
Cryptegrity DAO (ESCROW) is Now Available for Trading on Hotbit
Advertisement

&nbsp

&nbsp
Hotbit Exchange, a global crypto trading platform, officially listed $ESCROW (Cryptegrity DAO) on January 27, 2023. The ESCROW/USDT trading pair is now available for all users of Hotbit Exchange.
To increase trust and protect the funds of buyers and sellers, Cryptegrity DAO (ESCROW) has introduced a means to trade crypto for goods and services without fear of theft or services not rendered, providing Security via smart contract technology. Its native token $ESCROW has been listed on Hotbit Exchange at 07:00 AM UTC on January 27, 2023, to expand its global reach further and maintain a secure and reliable platform for the exchange of goods and services using crypto.
INTRODUCING CRYPTEGRITY DAO
Cryptegrity is a blockchain-based platform that aims to increase trust between buyers and sellers of goods and services. The platform utilizes smart contract technology and cryptographic techniques to ensure transactions' integrity and funds' security. 
Cryptegrity's web3 platform offers transparency and peace of mind that is impossible with traditional web2 competitors. Buyer funds are locked in an audited smart contract and released to the seller only when goods are received or services are rendered. This ensures that buyers and sellers can have confidence in the security of their transactions and reduces counterparty risk.
25% of revenue is distributed to $Escrow holders in real-time through smart contract technology. This revenue sharing continues for the lifespan of the platform or until all tokens are repurchased from public circulation. The Cryptegrity platform incentivizes the community and holders to help create liquidity and earn rewards by offering $Escrow for creating $Escrow LP pairs and staking them. Additionally, the Cryptegrity DAO rewards participants for contributing and resolving issues on the platform.
Advertisement

&nbsp

&nbsp
In conclusion, Cryptegrity is an innovative platform changing our thoughts about online identity verification. With its cutting-edge technology, user-friendly interface, and listing on Hotbit, this project is poised to make a big impact in the industry.  
About $ESCROW Token
The Escrow Token serves dual purposes: it distributes platform fees to Token holders via revenue sharing and functions as a governance token with voting rights in the Cryptegrity DAO. It is the native token of the Cryptegrity Platform and is built on the Bep-20 and Erc-20 standards.
ESCROW has a total supply of 100 million tokens, with the following allocation: 10% to founders, 10% to the team, 10% for marketing and development, 10% for promotions, 10% for partnerships, 10% for liquidity for future DEX and CEX, and 40% available for sale to the public.
The ESCROW token is now available for trading on Hotbit Exchange starting at 07:00 AM UTC on January 27, 2023. Investors can easily buy and sell the token in relation to the Cryptegrity Project. The listing on Hotbit Exchange will aid in expanding the project's reach and increasing market attention.
ABOUT HOTBIT
Founded in 2018 and holding Estonian MTR license, American MSB license, Australian AUSTRAC license, and Canadian MSB license, Hotbit cryptocurrency exchange is known as a leading trading platform that continues to develop and integrate various forms of businesses such as spot trading, financial derivatives, cryptocurrency investment and DAPP into one platform. Hotbit has already gained over 8 Million registered users from more than 210 countries and regions. Based on its globalized and unified strategies, Hotbit continues to focus on world's emerging markets, such as Russia, Turkey and Southeast Asia markets and was ranked one of the top 3 most welcomed exchanges by Russian media in 2019. Hotbit is constantly introducing and listing high-quality crypto projects so its users can directly trade, manage, track, and analyze cryptocurrencies, making the entire experience easier for ordinary people.
Start Trading Now: Hotbit.io
Telegram: https://t.me/Hotbit_English 
Twitter: https://twitter.com/Hotbit_news
Source link
Centralized Exchange Tokens Post Solid Gains in January Despite SEC Interest; Bitcoin, Ether, in the Red.
"If demand for trading on the FTX platform increased, demand for the FTT token could increase, such that any price increase in FTT would benefit holders of FTT equally and in direct proportion to their FTT holdings," the SEC wrote in its complaint. "The large allocation of tokens to FTX incentivized the FTX management team to take steps to attract more users onto the trading platform and, therefore, increase demand for, and increase the trading price of, the FTT token."
Source link
Australian Government Flagged FTX Concerns Eight Months Before Downfall
A new report shows that the fallen crypto exchange FTX had already caused concerns with the Australian regulator months before its collapse. According to a document on The Guardian Australia's website, the ASIC (Australian Securities and Investments Commission) started investigating the firm's local operation last March.
An article in the Australian Financial Review prompted the concerns. The article outlined the now-bankrupt exchange's plans to launch in Australia within a few weeks. FTX caused more concerns when rumors that it would allow users to purchase cryptocurrencies with margin loans of 30 times their investment started making rounds.
In early April 2022, several Australian regulators held meetings with FTX leadership, and at that time, the exchange promised to operate under the stipulated while cautioning its customers about potential scams. However, the regulators somehow remained concerned about the FTX business.
Report Shows ASIC Issued Several Notices to FTX Australia Within a Few Months
In a span of four months, the ASIC had issued about four notices to FTX's Australian subsidiary, requesting more information about its business operations. However, to avoid interfering with its law enforcement activities, ASIC did not issue the notices via a freedom of information request.
The Guardian Australia's briefing document released on November 12, 2022, a day after FTX had filed for bankruptcy, indicates that, indeed, the ASIC had been carrying out what's described in the document as a 'surveillance activity' on the fallen exchange since last March.
The document stated that since March 2022, the Australian regulator has been requesting information from FTX Australia regarding its financial offerings. Among the issues raised included the firm's compliance with the ASIC's product intervention order alongside pricing and how it registered new users.
FTX Licensing Strategy
It has been discovered that FTX Australian began its operations without ASIC's approval because it evaded the usual licensing procedures by buying out an existing firm that had possessed an Australian Financial Services License since 2021.
Another revelation shows that IFS Markets, the company acquired by FTX, had also gotten the license by taking over another financial firm called Forex Financial Services a few months earlier.
---
Tokenhell.com produces top quality content exposure for cryptocurrency and blockchain companies and startups. We have provided brand exposure for thousands of companies to date and you can be one of them too! All of our clients appreciate our value / pricing ratio. Contact us if you have any questions: info@tokenhell.com. Cryptocurrencies and Digital tokens are highly volatile, conduct your own research before making any investment decisions. Some of the posts on this website are guest posts or paid posts that are not written by our authors (namely Crypto Cable , Sponsored Articles and Press Release content) and the views expressed in these types of posts do not reflect the views of this website. Tokenhell is not responsible for the content, accuracy, quality, advertising, products or any other content posted on the site. Read full terms and conditions / disclaimer.
Source link